3 Flares
Made with Flare

More Info

'>
3 Flares
×
Experienced runners are experts on the best half marathon races for beginners, the most challenging races, and the most fun races. If you keep training and remain in the racing circuit you will have that knowledge one day as well.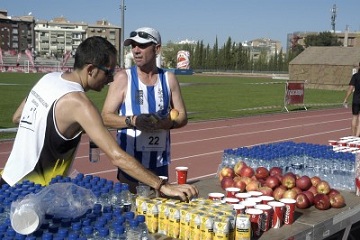 Until then, you will have to size up the races according to the following five factors:
1. Location
2. Date
3. Course Details
4. Type of Race
5. Time Limits
1. Location
It is best to create a starter list of races that are in the right place at the right time, so you are able to attend. You start by just listing races that are close enough to home to be considered day or weekend trips, or in areas that you typically travel to anyway.
If you can afford to travel to your race and might be able to get some time off work in the next year, you may also consider races held in locations you would like to visit.
2. Date
While looking at races in ideal locations, pay attention to the date they are held. Consider whether you could get there at that time of year if it is not close to your home. Also consider the weather in that location at that time of year.
Some runners love fall half marathon races because the weather is a bit cooler, but you also run higher risk of rain and other weather obstacles at that time of year.
Some runners love racing in the summer, but some locations can be extremely hot and that makes the race more difficult. You should know from your training experience whether warmer or cooler temperatures are more comfortable for you.
3. Course Details
Once you have established this starter list of races in the right locations at the right times of year, start narrowing down the options by looking at the course details and the type of race offered.
Most half marathon races are on pavement or go through cities or towns with sidewalks and paved streets. That is the type of race most runners will be looking for, so they would eliminate any races that are run on trails or other off-road locations.
Trail running requires a different type of training, different shoes, and different race day gear. Make sure you are prepared for that type of race, or eliminate any half marathon races on your list that are trail runs.
Next, go to the websites for your remaining races or look up comments on message boards to figure out what the courses are like. For example, some courses have a lot of uphill passages while others do not have a lot of elevation at all. Some are considered fast and breezy, while others are more challenging and may have a lot more twists and turns.
If you can find information on the elevation changes of a particular course, you can determine how difficult it might be for you to run. The more elevation change, the more challenging the course is going to be.
4. Type of Race
Also consider if there are places for supporters to cheer on the racers, especially if you have loved ones who want to come enjoy the event with you. Consider the amount and type of entertainment offered along the course, the distance between checkpoints, and the scenery you will be passing through. All of these factors will determine how much you enjoy this half marathon.
After eliminating all half marathon races that do not fit you well on any of those points, look into the maximum time allowed to complete the remaining races. This could be a big deal if you have never completed a half marathon before.
5. Time Limits
Many half marathon and marathon races close the finishing zone at a certain time, with many unleashing traffic on streets that were blocked for the race. If you do not keep a minimum pace to finish the race on time, you will either be left on your own to complete the race unofficially, or will be picked up by race officials and transported off the course at a certain time.
If you can determine how much time you have to complete a half marathon race, you can make sure you train to at least finish at the minimum required pace. Most half marathon races are very reasonable on time, but there is no sense signing up for a race you know you cannot finish officially.
Once you go through all of these factors, you should be left with a short list of half marathon races that are suitable to you on all levels. You can do further research into those races and pick one that you think is ideal for your training schedule.
Some great half marathons to consider:
– New York Half Marathon
– Chicago Half Marathon
– Disney Half Marathon
– Sydney Half Marathon
– Carlsbad Half Marathon
Read more about this topic on the following pages:
New York Half Marathon
Discover everything about the New York Half Marathon. Apply the tips and run a great New York Half Marathon!
Chicago Half Marathon
Discover everything about the Chicago Half Marathon. Apply the tips and run a great Chicago Half Marathon!
Disney Half Marathon
Participate in the Disney Half Marathon and enjoy the happiest race in the world! This is a half marathon race where you can break your fastest time!
Sydney Half Marathon
Enjoy the historic Sydney Half Marathon race. Discover everything about race history, race course and how to prepare for this great half marathon!
Carlsbad Half Marathon
Discover everything you need to know about the Carlsbad Half Marathon. Run your half marathon near the beautiful Pacific Ocean!
Return from Half Marathon Races to Marathon Training Tips home
3 Flares
Made with Flare

More Info

'>
3 Flares
×