1 Flares
Made with Flare

More Info

'>
1 Flares
×
Half marathon training is very beneficial for those looking for a challenge, but who aren't quite up to the 26.2 miles of a full marathon. Less than 1% of the world's population have completed a marathon, so this tells you it's not for everyone.
Half marathons have gained popularity in recent years, with crowds of enthusiastic runners ready to add those 13.1 miles to their list of lifetime achievements.
With the proper training, a good attitude and lots of determination – you can be counted among them.
Similarities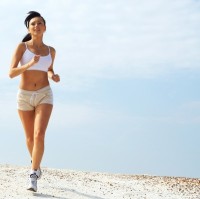 There are many similarities between running marathons and half marathons.
No matter which event you're preparing for, your training will include these three basic components: endurance, speed and rest.
Strong motivation is also essential – a good mental attitude may very well be the defining factor in your success.
Good nutrition and hydration are key elements of any training program, as well as the right gear and shoes.
Your half marathon schedule will include days for rest and recovery which are just as important as your running days. Allowing your body to rest between runs will prevent injury and burn-out and it helps you to a higher level.
Read more about the key elements of your half marathon preparation.
Differences
Obviously the major difference between marathons and half marathons is the distance, so your half marathon preparation will differ in mileage. Instead of building up to 20 to 22 miles runs, you'll be increasing from 3 to 10 (or 12) miles.
The schedule you choose also depends on your goal. If you want to break your old record you might be better off with a higher mileage compared to someone who just wants to make it to the finish line.
Are you running the half marathon for the first time? Don't forget to check out my review of the half marathon schedule for beginners progam.
Before you start with your preparation, you should be able to run 5 miles without stopping and at least two to three days a week. Your weekly mileage should be between 10 and 15 miles at minimum, whereas individuals training for a marathon usually run at least 25 to 30 miles per week.
Finding A Half Marathon
You'll have a few decisions to make when it comes to your half marathon. Do you want to join a big or small event? Are you looking to stay close to home, or travel someplace new?
Visit this Half Marathon Guide for listings and reviews of all the half marathons in the world. Check out the dates and registration information to help you decide.
It takes time to prepare for a half marathon, so it's best to plan ahead. Take at least twelve weeks to prepare, even more if you are a beginner.
You want to enjoy your training and the half marathon itself, so listen to your body and adapt your program if necessary. With time and patience, you'll cross the finish line with a smile on your face.
Read more about this topic on the following pages:
Training For A Half Marathon – 5 Key Elements To Think About!
Training for a half marathon? Useful tips on how to prepare and build your own half marathon schedule.
Looking For A 12 Week Half Marathon Training Schedule?
12 week half marathon training schedule for beginners and intermediate runners.
20 Week Half Marathon Preparation – Five Important Phases
Discover how to set up a 20 week half marathon training program and prepare to run your best half marathon race.
First Half Marathon Tips For Everyday Runners
Are you training for your first half marathon? Find out what it takes to make your first half marathon a great running experience!
Half Marathon Schedule for Beginners Review
Are you looking for an effective half marathon training schedule for beginners? Take your time to read my review of one of the best half marathons plans out there.
1/2 Marathon Training Tips
Read these top 10 half marathon training tips, keep your body safe and your brain sane!
Return from Half Marathon Training to Marathon Training Tips home
1 Flares
Made with Flare

More Info

'>
1 Flares
×