0 Flares
Made with Flare

More Info

'>
0 Flares
×
Choose your running clothes with care, as uncomfortable or inappropriate apparel will make your marathon day miserable.
The weather is an important factor when deciding on your clothes, so you may want to have a couple of different outfits ready for race day.
Try your clothes on well before the day of the marathon. Standing at the starting line is no time to be noticing your shorts are too tight. Prepare in advance by wearing your outfit for at least one long run.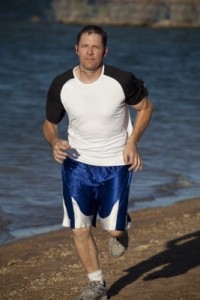 Marathon Gear
Performance clothing is specially designed with materials that facilitate the most comfortable wear for runners.
Sara Wells, the 2003 National Marathon Champion states, "You'll run so much easier in real running clothes, such as those made of CoolMax or nylon."
CoolMax wicks moisture away from your body, keeping you cool, dry and comfortable throughout the entire marathon.
Some online stores offer a CoolMax singlet with built-in snap fasteners so you don't have to worry about pinning your race number to your shirt.
Their tops have no extra trim or seams, making them extremely comfortable for running. You can also find stretchable "DRYLINE" fabric shorts which support your hamstrings and quads, reducing muscle fatigue.
For chilly weather, you'll want a long-sleeved shirt and running pants. Choose clothes made with fabric that will pull moisture away from your skin – even when it's cold. Extreme temperatures may call for tights and thermals for extra insulation.
Essential Accessories
Wearing sunglasses will keep you from wasting energy squinting by keeping the sun out of your eyes. A hat with visor can serve the same purpose, as well as protect you from wind or rain. If you're running during winter, a warm hat that covers your ears is a must.
If it's too warm to wear a jacket over your running clothes, but you still need some protection against the elements, consider a vest. It will block the wind from your body's core, but leave your arms uncovered so you don't get overheated.
Ladies, don't forget a good quality sports bra. When browsing the Net you will find stores offering the Nike Women's Distance Airborne Running Sports Bra that gives you support and wicks moisture away from your body with "Dri-Fit" performance fabric.
Invest in the best running gear not only for the marathon, but also for your training. When you're properly outfitted, you'll enjoy the entire experience much more.
Return from Running Clothes to Marathon Training Tips home
0 Flares
Made with Flare

More Info

'>
0 Flares
×