24 Flares
Made with Flare

More Info

'>
24 Flares
×
There are two sides to running: performance and enjoyment.
There are casual runners who simply love the feeling they get from running. There are also many who strive to beat their personal records, break the records of others, and cross the finish line first in races.
Runners lace up the sneakers and head for the trail or sidewalk for a variety of reasons, but all runners have a need for running tips.
Tips for runners help casual runners get maximum enjoyment from the sport. By the same token, effective running tips will help the serious-minded or professional runner improve performance so they get greater satisfaction out of coming in first, smashing a record, or pushing their bodies to new heights.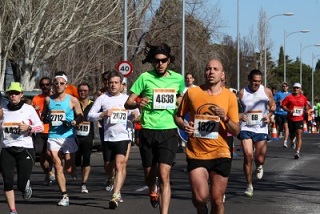 Whatever may be compelling you to run, the following tips for runners will enhance your performance and nurture your love for the sport.
A new runner may get out on the trail, track or sidewalk, and simply enjoy running. It is difficult for many when first starting out, but with consistency and time the love of the sport takes over.
Eventually, you need more reason to get out there and run than that simple enjoyment of pounding pavement. You need a goal, so you are striving toward something you find valuable.
A goal will convince you to get out there and run even when you have a million excuses to skip it altogether. A goal will give you a greater sense of satisfaction as you feel you are accomplishing something with your running.
#2: Study up on proper running technique
This is one of the most basic running tips, but also one of the most important.
For the serious or professional runner, form will make the difference between optimal performance and mediocre performance.
For the casual runner, form will make the difference between frequent injuries and injury-free enjoyment of the sport.
Study up on all elements of from stride and posture to arm motions and foot mechanics. Your running will become stronger and you will enjoy running even more.
#3: Learn the difference between running speed and running cadence
This is one of those tips for runners that many beginners turn away from, simply because it seems confusing.
Running cadence refers to the number of times that your feet hit the ground every minute. Many runners confuse this with speed, assuming that the feet will hit the ground more times per minute if they are running faster.
While this may be true, there is a clear difference between cadence and speed. Cadence has a lot of impact on your speed, so it is important to know the differences.
#4: Add weight training to your schedule
If you are trying to lose weight through running, lifting weights will make it easier to shed the excess fat.
If you want to improve your performance or speed, then lifting weights will become an essential component of your training schedule. The goal is not to get bulky. You simply want to improve strength and develop a well toned, healthy body that is ready for the challenge of running.
#5: Try new running developments such as Chi Running
Sometimes interesting developments come along in the running world. Trying out some of these new developments is the best of all running tips, because it keeps you open to learning new things.
Chi Running is one of the newer developments to come along in the industry, and it is attracting new runners to sport while enlivening professional runners as well.
If you haven't heard of it or tried it out yet, you might want to open up and see what it is all about.
#6: Add yoga into your training schedule
This is one of those running tips that get laughed at, but the laughing stops when you give it a try and realize yoga is far more beneficial than you ever realized. In fact, many runners find that yoga is not as easy as they thought it would be to perform.
After doing yoga workouts over a period of time, most find that their running improves more than expected as well.
#7: Stick to a healthy runner diet
What you feed your body will make a difference in how you feel while running, how fast you can run, and how far you can run before running out of energy.
If you are an aspiring professional runner, you will never reach your goals without paying attention to what you eat.
If you are a casual runner, you will find your runs far more enjoyable if you pay attention to food and drink going into your body.
#8: Make hydration a daily goal
This is another one of the best tips for runners because it affects all runners. When first starting out, many runners make sure to take a bottle of water on their runs but do not think about hydration at any other time.
The problem is you cannot fix dehydration by downing a bottle of water during a run. You have to fight dehydration on a daily basis; otherwise your running will be affected.
#9: Give treadmill running a try
This is not one of the usual running tips found in magazines and on websites, but it is still one of the best tips for runners of all levels.
The key to improving your performance and getting the most enjoyment out of this sport is to be consistent with your training.
Casual runners need to run consistently so they stay in shape and maintain a high level of cardiovascular fitness. Professional runners need to remain consistent or they won't be competitive against other runners.
Unfortunately, there will be times that you want or need to skip a workout if you don't have a treadmill on hand. You can run at any time of the day or night and vary your workouts for increased physical challenge when you run on a treadmill.
#10: Cross country running makes you stronger
Running tips for cross country running are a bit different than running tips for a trip around the neighborhood. There are special skills you will need to survive at cross country running, so you need special tips for runners of this sport.
These running tips cover all of the basic knowledge you need as a runner. If you are a casual runner, these tips for runners will ensure you love every moment you are out there enjoying the sport.
If you are a professional runner or are aspiring to live up to that title one day, these are the things you will need before you can become a serious competitor in the sport. Either way, these running tips reflect knowledge that every runner must have under their belt.
There are many other tips for runners that fall underneath each of these basic running tips. It is in your best interest to keep reading, learning and practicing what you learn.
The more you know about your body and the sport of running, the more enjoyment you will get out of the sport and the better you will be in a competition sense.
Read more about this topic on the following pages:
Benefits Of Running – A Wonderful Sport
The benefits of running are endless. Find out why millions of people run and enjoy their life more.
10 Winter Running Tips – How To Stay Warm And Safe
Make sure to read these strategies and tips to make winter running a more pleasant experience.
Running For Weight Loss – Be Patient!
Running for weight loss? Not an easy task, but with these helpful tips and persistance you will succeed.
Popular Running Apps – Log And Share Your Running Experience!
Running apps are getting more and more popular. Log your running route, distance, speed, the number of calories burnt and share it online.
Running Magazine – The Best In The Field!
Discover which running magazine to read. Enhance your knowledge about running and perform better.
Children Running – Is It Good Or Bad?
Children running can be a lot of fun. Discover how you can positively affect your children's health. Running together is worth a try!
Start With Chi Running And Greatly Reduce Your Chances Of Injury
Chi Running greatly reduces your chances of injury. Beginners as well as seasoned marathoners benefit from this popular running method.
A Real Runners Diet To Race Faster
A balanced Runners Diet is not only important for staying healthy, but it is crucial to perform well. Make sure not to miss my Runners Diet tips!
Best Tips On Perfecting Your Running Technique
Read the best tips on perfecting your running technique and increase your speed and stamina. Become a better and faster runner!
Running On Treadmill Machines For Pure Power And Performance
Running on treadmill is a great alternative to outdoor running. Find out about the advantages of and exercises for treadmill running.
Tips For Trail Running That Put You At The Top Of Your Game
Looking for the best trail running tips? These 10 tips will put you at the top of your game and get you ready for your next trail run!
Running Health Benefits You Can Count On
Read here about the top 10 running health benefits. Lower cholesterol, lower blood pressure, better endurance, just to name a few!
How To Start Running – 7 Steps For Success
Do you wonder how to start running? Following these 7 easy steps and soon you will experience the many incredible benefits regular running brings.
Runners Knee, Causes, Symptoms And Remedies
Everything you need to know about runners knee. Read about the different causes, symptoms and how to prevent runners knee.
Yoga for Runners – Factual Fitness
Yoga for runners. Discover tips, tricks and exercises to become a better runner through effective yoga.
My Top Favorite Tips For Cross Country Running
Cross country running tips everyone will benefit from. These tips will transform you from an amateur cross country runner to a real cross country specialist.
Effective Weight Training For Runners
Have you considered the positive impact of adding weight training for runners to your fitness routine? Discover everything about the benefits and weight training workouts.
Running Cadence – The Ultimate Guide
Do you want to improve your running cadence? Read this ultimate guide to running cadence and start improving your cadence now!
Running Log Stories – Your Running Journey
Running log for tracking your running workouts. Find out why and how to use a running log on your running journey.
Top 5 Running Goals to Keep on Running
Do you need some motivation to keep on running? Discover 5 running goals that keep you going!
Increase Your Running Speed and Stay Injury-Free
Learn how to increase running speed without injury. Three things to focus on and race faster in your upcoming race!
70 Running Tips for Beginners – Get Started Today!
70 beginner running tips for beginners and intermediate runners who need some extra tips. Learn everything you need to know and hit the pavement today!
Hydration for Runners – Run to Your Best
Proper hydration for runners is crucial. Discover everything about hydration before, during and after your runs and run better.
Return from Running Tips to Marathon Training Tips home
24 Flares
Made with Flare

More Info

'>
24 Flares
×